This weekend in Tempe AZ!
The guests for this years Horror Sci-Fi Fest in Tempe AZ!
Bark at the moon!
Danny Northside - Tuesday, October 12, 2010
As you can tell, we have been working hard on bringing you this years International Horror and Sci-Fi Festival in Tempe Arizona. Andrea The Midnite Movie Mamacita has lined up some killer guests and we are proud to announce the following list!
First up for Thursday October 14th we have Adam Busch from Buffy The Vampire Slayer. Adam will be out promoting his new film which he directed called Drones. It's sort of like Office Space with an Alien who is played by non other than the super cute Angela Bettis (May, The Toolbox Murders).
Drones will start at 7:30PM and I promise it will not disappoint. The movie gets out at 9:30PM and Adam will be answering questions and doing a signing afterwards as well!
Here is the trailer for Drones!
Now for Friday night October 15th we will be graced by Charles Cyphers also known as Sheriff Brackett of John Carpenter's Halloween!. Charles will be hosting a Q&A after a showing of another one of his classic films from John Carpenter about a little town called Antonio Bay that gets a long awaited haunting from the sea called The Fog!
The film also stars Adrienne Barbeau (Swamp Thing), Jamie Lee Curtis (Halloween), and her mom Janet Leigh (Psycho). I am extremely excited to see The Fog on the big screen.
The Fog starts at 7:30PM and Charles will be doing answering questions as well as signing for the fans afterwards.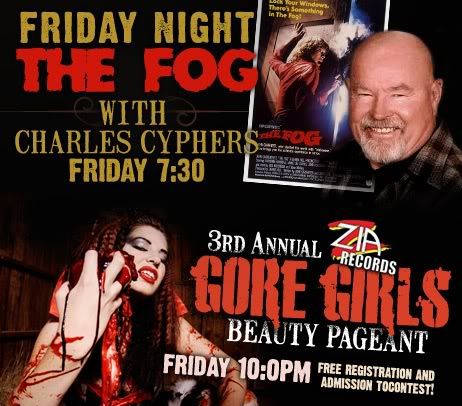 Here is the trailer for The Fog!
Saturday Night October 16th brings one of my all time favorite actors: Lance Henriksen. I cannot begin to tell you how many of Lance's movies I have seen over and over. Films like Pumpkinhead, The Terminator, Near Dark, Man's Best Friend, Stone Cold, and his show Millennium to name a few! Shit, he even got thrown through a door by Mr. T in The A Team!
Lance will be here or an exclusive showing of Aliens at 7:30PM where he played Bishop and answering questions as well as doing a signing for fans afterwards.
Aliens has a huge cast of talent including Sigourney Weaver (Ghostbusters), Michael Biehn (The Terminator), Paul Reiser (Mad About You), and Bill Paxton (Big Love and Chet from Weird Science).
I shouldn't have to post this but here is the trailer for Aliens!
And last but not least Tiffany Shepis (The Prometheus Project, Zombies! Zombies! Zombies!) graces us with the premier of her latest film, the remake of Night of The Demons! The film also stars Shannon Elizabeth (American Pie) and Edward Furlong (Terminator 2 and American History X).
Tiffany is really cool and hilarious so I can guarantee her Q&A will be a great closing to this years festivities! The film is playing Sunday October 17th at 7:00PM with Tiffany doing a signing after.
Here is the trailer for the new Night of The Demons!
Be sure to check out the other article posted with all the independent horror films being shown at this years festival RIGHT HERE and spread the word about this weekend!
For more info please visit The International Horror and Sci-Fi Site!
I love this Robogeisha pic!